I just wanted to share with you, our amazing and loyal customers just what we have all achieved in 2018!
When we opened last Feb (2017), it was with a hope that we could provide something in the local area around Northallerton and North Yorkshire that seemed to be missing.....someone who can help with sewing and knitting projects, dressmaking fabrics and a place to go to learn how to sew and knit whilst making friends. Not to mention make a living whilst we were at it!
Since the beginning of 2018 we have helped alter and repair and replace zips over 1000 customers! Considering it's just mum and I … I don't think that's too bad going. Thank you to all who have helped build this business by being a loyal customer. We've also helped last minute brides and bridesmaids and grooms altering one lady's dress to allow for a 6 month baby bump! We've made socks for man who broke his leg and had to wear a leg brace, and put in zips up to the waist to let him get into the trousers!
We have also helped people change their curtains and blinds, whether it is alter shop bought curtains, or make new curtains... (your fabric or ours). We have made some of the biggest I have ever made at nearly 2.5m drop (100 inch drop) by 3.5 fabric widths fully lined! And some of the smallest 1m drop ( 40") by 1/2 a width wide to fit a small awkward window.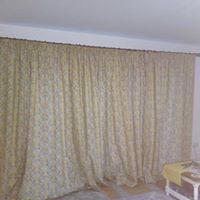 We have fitted bay windows with blackout curtains, blinds and more. We have made the blinds and curtains for whole houses and cut up curtains to make blinds.
We have also made mock roman blinds to dress the window, show curtains and eyelet curtains. Having invested in the correct equipment to enable us to put eyelets into curtains, we have also converted normal curtains into eyelet curtains and vice versa (eyelet curtains into normal curtains).
We have seen our workshops grow in popularity with regular workshops held both Wednesday morning and evenings now to meet demand. We have also decided that we will hold more Saturday workshops for those who cannot make the mid week ones.
One to ones have increased and we have helped people of all ages and abilities to get back into sewing or start from scratch, dispelling the fear instilled into our pupils when they learnt at school all those years ago. We will not laugh, tell you off, and make you feel stupid. We will however help you to grow in confidence, give you the skills and homework (if you want it). We have taught people to sew from ages 4 to 84!
We have made some firm friends through our regular workshops and helped one wonderful lady on a journey of self help to make her own wedding dress and jacket for the wedding! I am so proud of her progress and pleased that she chose to learn with us. (still waiting for the pictures though!)
Our other ladies have put in their first invisible zips, fitted a pattern, made toiles (mock ups) , overcome their fear of buttonholes, made and completed something for the first time ever!, and smiled whilst they were doing all of this.
The rapport of our regulars who ask each week "how far have you got?", " did you finish it?" " lets see how it looks on you" and "OMG its fantastic" makes me proud to have helped these wonderful ladies to grow their own skills.
More about what workshops are available will follow
We have made trousers, skirts, dresses, jackets, and more this year! Helping to copy old favourites and create some new ones...
One of my favourites from this year was Jenny whose daughter was getting married and could not quite find the right out fit at the right length for her. So we copied a picture and made it fit her. She told me that she kept going into her room to have a look at it hung on the hanger and just couldn't stop smiling!
We have met a wonderful mechanic who helps to service your sewing machines each Friday morning, helping lots of old and new machines alike feel better and run more smoothly. Unfortunately not all machines can be mended (parts are not available, motors have ceased or started working without the foot pedal! ). When we can't help, there is no charge so it's a win-win situation for our fantastic customers.
And for those who wanted to upgrade, start sewing, help their loved ones to sew and those who wanted to set up an embroidery business , we have sold them Singer sewing machines, making sure that they know how to use them and feel supported before they leave the shop with their new purchase. As an independent shop, we see all of our customers, get to know what they need, want, like, can't live without and more so that we can help them to choose what is best for them.
I'm looking forward to seeing the faces on the ladies who have a free sewing lesson that they got when they bought the machine... and seeing the look when they have mastered it.
We've also helped people who have a new machine and the upgrade was more complicated than they thought. We've gone through each setting to help them understand how it works, that you need to have the presser foot up when threading the machine and so much more. We are not just restricted to helping with Singer sewing machines, having worked on over 50 different machines in the clothing factories and teaching people to use them, we can help with most things including how to use all those feet you see.
We have increased our fabric ranges, investing heavily in dressmaking and curtain fabrics with more craft fabrics arriving in the new year. We finished 2017 with 250 different fabrics in stock and at the end of 2018 we currently have doubled that and more with over 500 fabrics in stock! We have most but not all of the fabrics now online in our online shop at https://sewnew.co.uk/online-shop?olsPage=t%2Ffabrics
Our fabric sales are increasing year on year (with a 42% increase from last year!) and this is all down to you lovely customers who have taken the business cards, handed them to your friends and fellow crafters, groups that you sew with, your colleagues at work and more. Not to mention you guys coming back for more of the lovely fabrics on sale. Without you, we couldn't make this work for all of us. So again a big thank you to all our fabric and haberdashery customers- keep up the good work!
Creative sewing solutions
We've made car head linings for a classic Lotus car, replaced coat linings chewed by puppies, repaired a vintage lace dress handed down from a grandmother that was also chewed by a puppy (different puppy). Made leg braces warmer, replaced hat linings, filled a 7" gap on a wedding dress, decorated a groom's waistcoat with the Yorkshire Rose, made wheelchair armrest covers, added zips into trouser legs for catheters, Velcro on flies to help older fingers get into and out of their trousers easily, added side zips to dresses to help those with arthritic fingers dress themselves and more.
And last but not least, I would like to thank my lovely helpers, in whatever form that they take, for all their help, support, financial backing, doing my accounts, cleaning, painting, repairing, gardening, unpicking, dog walking, marketing the business, and keeping the kids/husbands/partners/non crafter/dog lovers happy.
And last but not least, I would like to thank my lovely family, partner, kids, friends, customers and anyone else who has listened to my ideas and offered up some alternatives, to keeping me fit, well and fed, to helping make sense of this whole new world of running your own business and trying to make enough money to make it work. Without the support and care that they offer, this whole amazing experience would not have been and would not be possible. So thank you again for making 2018 so fantastic.
Here's to an even better 2019!
Happy New Year with health, wealth and happiness from all at Sew New Ltd.
See you when we open again..... Heather