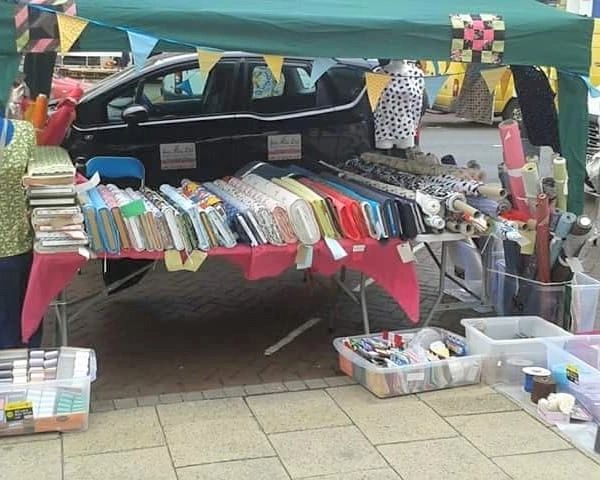 Here is our pop up shop, which was just outside Boyes on the High Street, Northallerton Market on Saturday. It was lovely to meet so many people who love fabric, enjoy sewing, want to start sewing again and those who were excited and reminisced to see fabric on the market again.
We feel that this was a great success with over 200 business cards handed out both to individuals and for members of numerous groups including the Richmond embroiderer's guild, the lady from Osmotherley who was looking for curtain fabric, the lady visiting from Ireland, another from Leeds and yet another from Huddersfield! Not forgetting my Hurworth ladies, the couple looking for a made to measure coat and our local customers who came to support us.
My 12 year old son did an amazing job handing out cards, explaining who we are and where to find us. Thank you to the couple who tried to find us but got lost too.
Mum (Marlene) was holding the fort at the main shop just off Boroughbridge Road in Romanby. Some of you lovely ladies found her and found what you were looking for which is great news.
Are we going to do this again...…. watch this space!
We are now on holiday for a week or so, but look forward to seeing both returning and new customers when we get back.
---