Yesterday at our Wednesday dressmaking, we had all of these. Our lovely dressmakers working together to help each other and build confidence.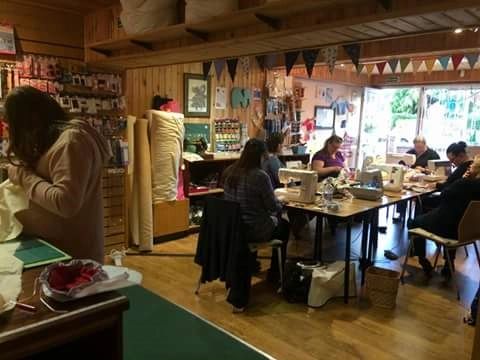 To say I love what we do is an understatement. During the course of the last few weeks we have had a group of ladies who have been learning to make clothes and fit them. It started off with a mixed ability group who did not know each other, were all doing different projects, strangers.
Over the course of the last few weeks, the changes that we have seen are fantastic and heart warming. The projects have ranged from making a V neck blouse with collar, pinafore/jumper dress with invisible zip, jersey dress with sleeves, a camisole with French seams and binding in lightweight cotton lawn to a buttonback blouse, altering sleeves on a school shirt and taking off a large frill on a jersey blouse and adding a curved frill.
Our ladies have started off with a range of abilities and all have made fantastic progress. The ladies have now learnt how to amend patterns and create simple facings, we have amended shop bought patterns to fit, copied customer's own clothes and amended the areas that did not fit well. We have made mock up garments (toiles) to check the patterns and amend them before cutting out on the real fabric. One lady had put in the first ever invisible zip and it is really invisible- it is truly amazing especially for a first time.
The ladies have tried and used the shop overlocker with great success, overcoming nerves and "I'll never be able to do this". They now sit behind the machine and just sew (sometimes with baited breath, but still they have the confidence to do it and know that help is at hand if they need it).
The ladies now all asking each other how they've got on and how far they had got with their project, no longer strangers.
They have learnt how to measure a hemline and make sure it is parallel to the floor, essential in skirts, dresses and chair making as well. We looked at how to measure curved lines and the importance of checking that the seams are the right length. Amended patterns and increased the amount in darts when one of our lovely ladies lost over an inch in waist and hips and taken the garment in to fit!
On the button back blouse the lessons were how to measure the buttonholes, check that they are the right length for the button, evenly spaced and more importantly that when we finished, that we didn't cut the stitches when opening the buttonhole with an unpicker.
The sense of achievement as one by one these lovely ladies have finished and showcased their items is overwhelming! The oohs, and the aahs and the "that's gorgeous" are the best part of my job. The lady who finished her first ever item because we have given her the confidence at each stage of the journey, not letting her give up, finding the solutions to the problems along the way. The look of excitement and positivity on her face was the best thing ever. Only topped when she showed all of us her very first dress that fitted well and she is proud of.
We have regular classes on a Wednesday morning (10am-12pm) and a Wednesday evening (6.30pm-8pm). If you want to be part of this amazing journey into self improvement, fun with a group of lovely ladies (gents welcome too), then give us a call, drop us a line.... (01609531399 and info@sewnew.co.uk)
You know what you have to do?? Come to Sew New.